Image: GPD
GPD is a familiar name for anyone who loves to tinker with tiny gaming machines. The Shenzen-based company made its name on emulation-friendly devices like the Android-based GPD XD, before moving on to Windows-based designs like the GPD Pocket mini laptop or the GPD Win 4, a Steam Deck competitor. But the company's newest design is a horse of a different color. It's a tiny external GPU that can punch up the graphics of any laptop or Windows-powered portable device.
GPD is calling it the G1, and like most of its other hardware, it's starting with a crowdfunding campaign. (Normally we don't cover crowdfunded projects, but GPD has proven its ability to deliver with dozens of devices). The gadget hides an AMD Radeon RX 7600M XT, a laptop GPU, inside its sleek aluminum housing. The GPD G1 uses a dedicated eGPU port called Oculink, a PCI-based standard supported on GPD's mini-gaming devices and some competitors. But crucially, it also supports USB4 and Thunderbolt 4 (backwards compatible to Thunderbolt 3), which means it'll work with most of the laptops on the market right now.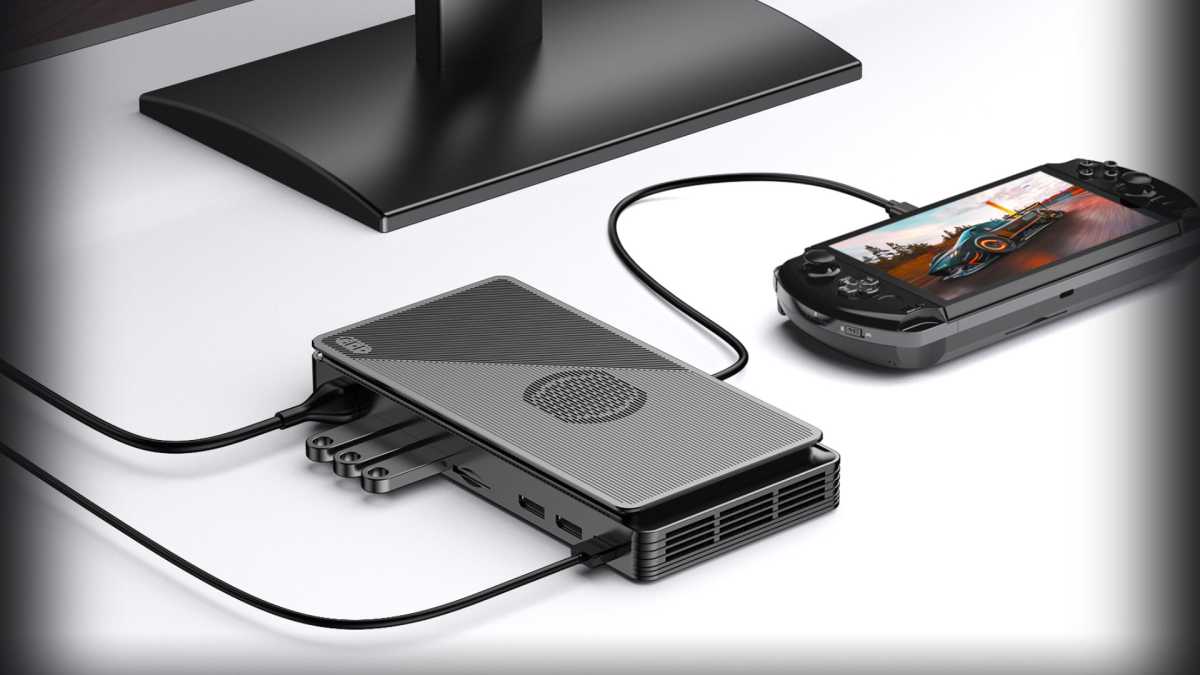 GPD
The G1 also works as a more general portable dock, including an HDMI 2.1 port, double DisplayPort, triple USB 3.2 type A ports, and a full-sized SD card reader. The semi-proprietary laptop power cable is a bit of a bummer, but a small price to pay for such a compact and useful little gadget. Devices with both Oculink and Thunderbolt 4 (like GPD's WinMax2) can maximize the gadget's throughput for external devices and GPU-powered video. At a bit under nine inches wide and 1.2 inches thick, it should be easy enough to throw into a laptop bag or a suitcase. Just don't try to stuff it in there — the 240-watt internal power supply needs active cooling.
The mobile GPU inside the G1 means it can't be upgraded like desktop-style eGPUs. That makes it something like the Asus ROG XG Mobile, which offers a lot more power with the latest RTX 4090 mobile card inside. (GPD says the RG 7600M XT can meet or beat a desktop RTX 3070, for what it's worth). But there are two crucial differences: One, the Asus eGPU only works with a handful of Asus gaming laptops and tablets thanks to a proprietary connection. And two, the GPD G1 will probably cost a lot less than Asus' $2,000 starting point.
How much, exactly? GPD isn't saying yet. But Liliputing reports on an earlier rumor that pegs the mobile dock at about $700, presumably with a pre-order discount via the Indiegogo campaign, currently in preview.